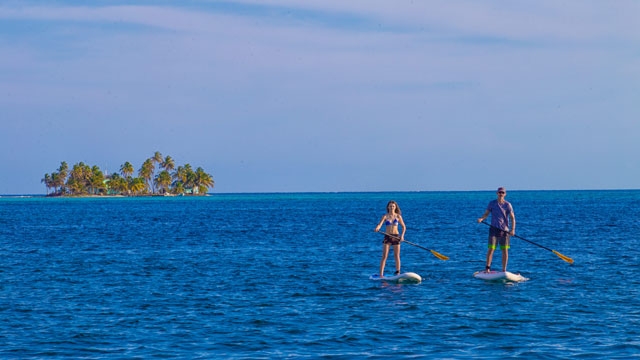 We are delighted to have our Coral Islands SUP trip featured in an article in The Globe and Mail. Writer Steven Threndyle joined us last season on the trip with guest instructor and SUP expert Norm Hann.

Exploring the Cayes of Belize on a Stand-Up Paddleboard
Steven Threndyle, November 26, 2015

"Is that where we're heading?" I gesture, carefully, toward a blurry mirage of mangrove trees hovering in the tropical heat, somewhere on the horizon. I am, after all, balancing rather gingerly on a stand-up paddleboard.

"That's South Water Caye, one of Belize's national marine parks," nods my guide Norman Hann. He reckons that it's about eight nautical miles away. (It's actually five and a half.)

"Looks like it's somewhere off the curve of the Earth," I mutter, a remark that gets a hearty laugh from fellow paddler Jenny Poppitt, one of our group of 10, who along with three Island Expeditions guides will propel ourselves slowly, yet purposefully, over azure Caribbean waters toward the island in the sky.

If the idea of a dozen or so middle-aged paddlers several nautical miles offshore in the Caribbean Sea sounds vaguely dangerous, rest assured that it's not. The Cayes (pronounced "keys") of Belize are protected by the second-largest barrier reef in the world; one that effectively depowers waves and tidal currents. This reef gives the waters off Belize luminescent blues and greens that, along with stunning clarity, make it one of the richest marine environments in the world.

Located a 40-minute skiff ride off Belize's Stann Creek province, the Southern Cayes are popular with divers, sailors, kayakers and snorkelers. But not too popular: The tiny islands that serve as our base camps are usually occupied by fewer than a few dozen people. Local fishermen feed their families and supply the lodges by conch-diving and loading their catch into simple dug-out style canoes.

The skiff drops paddlers off at Tobacco Cave Paradise Cabins, which offers the kind of rustic ambience you might find at a northern Ontario fishing lodge. Each tidy cabin is erected on stilts over the sandy shoreline, where you can watch schools of brilliantly coloured fish zigzag in gin-clear waters. A nearby bar pours a rainbow of tropical drinks and serves up Belikin, a tasty lager that seems to command about 95 per cent of the Belize beer market.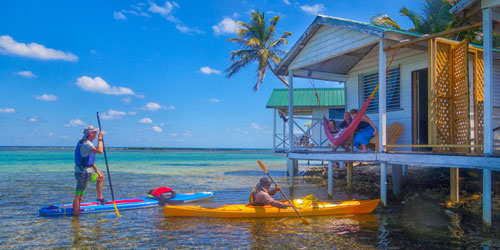 Tobacco Caye Paradise Cabins

Travel occurs relatively early in the day, before the heat and humidity become too much of a good thing. The lure of watching a spectacular sunrise – Belize boasts the best sunrises and sunsets I've ever seen – was enough to get most of us out of bed by 8 each day.

The first two days are spent reviewing stand-up paddling techniques, and then touring into a maze of mangrove-laden islands. Without the local guides to show the way, you might never get out. Days three through five are spent at the larger, slightly more luxurious South Water Caye Lodge. On the crossing from Tobacco Caye to South Water Caye, we stopped to go snorkelling at a reef wall rich with marine life, and later hungrily downed veggie wraps and tropical fruit on a stunning coral beach.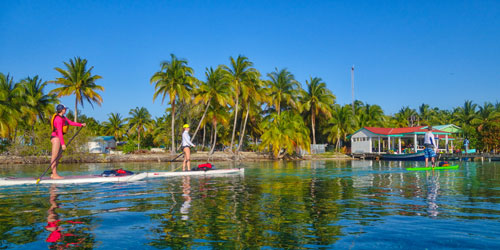 South Water Caye Lodge

For the core of paddlers who signed up for the trip – that's a bad pun, since three participants were yoga instructors and sported abs that would repel bullets – stand-up paddling was no sweat. For less co-ordinated males of a certain age, standing and paddling on an inflatable SUP was a bit like trying to paddle a beach ball.

It's nothing, however, that an hour or two of stroke practice won't correct. Hann was the expert, here, displaying a wide range of strokes that, with practice, keep the board stable and upright in even the choppiest waters.

Hann, 45, is a former basketball coach and phys-ed teacher from the nickel mining town of Sudbury, Ont. He moved to British Columbia and ended up teaching school and learning to stand-up paddleboard in the remote First Nations community of Hartley Bay. From there, Hann pioneered island-to-island SUP expeditions in British Columbia's Great Bear Rainforest.

"In 2013, Island Expeditions owner Tim Boys asked if I would come down to Belize to train their staff for SUP trips," he said. "I was excited about the opportunity. … Frankly, it's easier to get to Belize than it is to go to where I run my summer trips."

While Hann was lead guide for the paddling pointers, the cultural and natural history aspects of the tour – most notably the guided snorkelling trips that broke up our time on the water – were led by Kimike Smith and Cappy Sho. Both guides hail from nearby Dangriga; the most ethnically diverse community in Belize. Their Garifuna heritage is a curious biracial mix of Spanish slaves originally from Nigeria and Carib Indians from the island of St. Vincent who ended up in British Honduras (now Belize) in 1802. Amongst themselves, the Garifuna speak "Kriol," an odd patois of English that visitors to Belize can barely understand.

Trips like this depend on cohesive group dynamics to make them work. While Smith and Sho filled us in on culture and customs (hacking apart coconuts with sabres, anyone?), Hann kept our group from straying too far apart on the water. But perhaps the most memorable moments were the impromptu post-SUP yoga sessions that were led by the toned yogis on our tour.

Sometimes we were at the mercy of the weather and needed to go with the flow. On our penultimate day, the wind whipped up a few offshore breakers and we headed out for an impromptu surf session. Chaos ensued as we struggled to stay balanced in the chop, but when the water is bathwater warm you don't mind a good dunking in return for a smooth ride on a curling wave.

Looking back on the trip, I liked how fellow paddler Dorothy Jordan, a retired court clerk from Nicola Lake, B.C., summed it up. She loved how the island-to-island paddling brought her closer to nature. "It's really special to paddle through these waters and to stop and snorkel on the various reefs. … Here we were, out in this vast ocean on these tiny boards, with an entire ecosystem below the surface that changed with every paddle stroke."

And sooner or later, you'll reach that island on the horizon.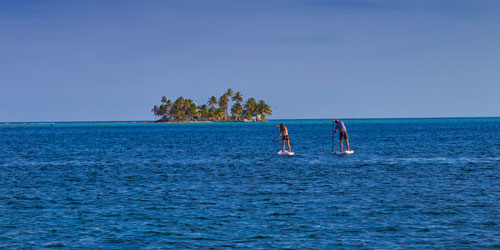 ----------------------------
If you go

Island Expeditions is running three lodge-to-lodge SUP adventures to the Southwater Caye Marine Reserve in Belize, leaving on Jan. 30, Feb. 6 and March 5. (Guide Norm Hann is scheduled for the Jan. 30 and Feb. 6 departures.) Trips start at $2,399 a person (double occupancy). Flights are not included. coralislands.travel

Excursions with guide Norm Hann (Jan. 30 and Feb. 6) are $100 more.

All of Island Expeditions's sea kayaking and SUP lodge trips offer additional add-ons to the recently renovated Bocawina Rainforest Resort, located within Mayflower Bocawina National Park.

The highlight of the jungle-chic resort is an open-air, thatched-hut restaurant. Virtually all of the produce is grown onsite in an organic garden. Accommodations range from thatched cabanas to the stately, six-suite Mayan House.

Available activities include adrenaline thrills such as ziplining, rappelling, early morning birdwatching tours and night jungle hikes. As well, two ancient Mayan ruins stand at the gateway to the park. Unlike the perfectly restored ruins in the northern part of Belize, these structures are embedded in the jungle understory, making them even more mysterious.

United, Delta and American offer regularly scheduled flights from Toronto to Belize City, with stopovers in Miami or Houston.

The writer travelled as a guest of Island Expeditions. It did not review or approve this article.

Editor's note: Tobacco Caye Paradise Cabins was incorrectly identified in the original version of this article. This version has been corrected.