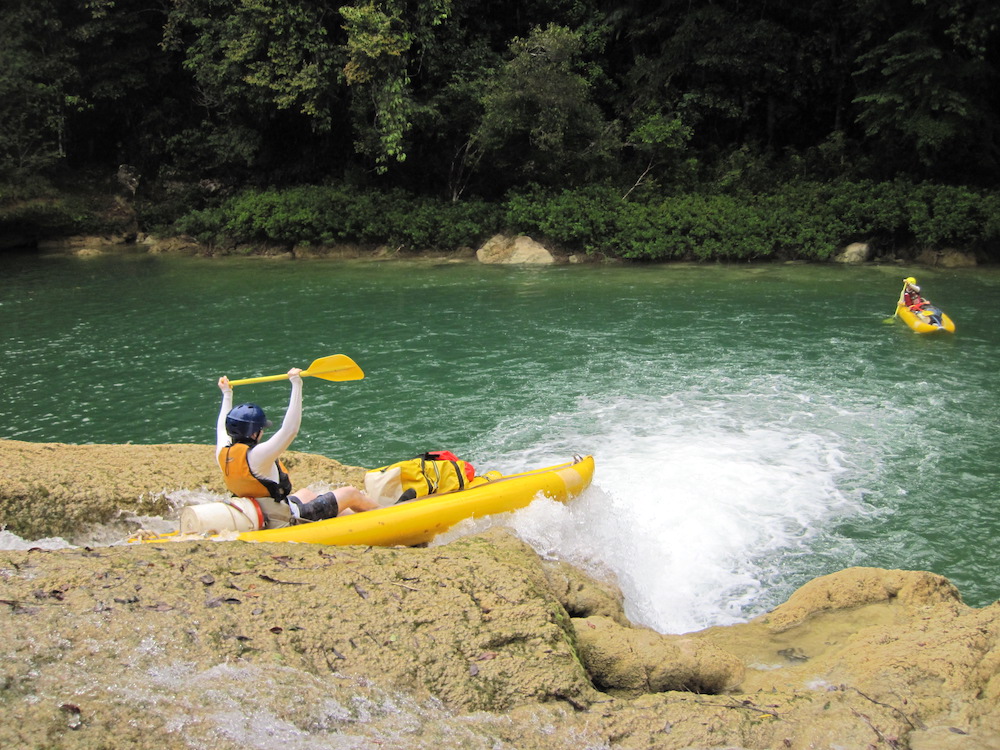 We wanted to share some favourite memories from our guests who joined us on the Epic Belize trip from last season. 
The Epic Belize trip is a multisport journey that will take you off-the-beaten-path from rich coral reefs to jungle rainforests and remote Mayan villages. One of the highlights of the trip is paddling down the remote Moho River, camping in the jungle and visiting Mayan villages with our local guides.
Guide Pedro Sho is one of our long term guides from the Mayan village of Santa Teresa. He has worked with us for over 18 years now. Pedro is intimately familiar with the land, waterways and people of southern Belize. Our other guides from Santa Teresa include Mario Chub and Venancio Aclz. 
Here are some of our favourite stories from guests about the Moho River section of the itinerary and their time spent with our awesome guides Pedro and Venancio:
"...Pedro and Venancio were absolutely outstanding guides.  They really immersed us into the Mayan culture. The time on the Moho River was suburb.  Learning about the Mayan culture was an unexpected plus. Venancio and Pedro were everything that you could hope for as hosts / guides: knowledgeable, helpful, good cooks,  humorous, great personalities that meshed perfectly…" Glen Coutts
Guide Pedro preparing breakfast at the Moho River camp
"...Pedro shares his heritage with sensitivity and pride. To be included in the homes of locals at Santa Teresa was really extraordinary, an added bonus we weren't expecting. I loved all the Mayan guides shared with us about their history and culture. Very wonderful! I share the same respect and appreciation for Venancio. They were delightful to be with and as fun as can be! …"  Loren Swift Merritt
Guides Venancio and Pedro 
"...It was priceless to be invited into Pedros village and home to understand the culture and lifestyle.  He was warm and inviting with a wonderful humour that invaded everything he did. Vanencio was superb. He was so attentive and caring of the group with a wonderful prankster streak that fit so well with our group in particular.  His ability to read his clients was perfect. His laugh and outright charm made him feel like he was a friend from the first day we met…" Heather MacRae
Preparing lunch in Santa Teresa
"...Both Pedro and Venancio were extraordinary. The Moho River part of the tour, including visiting their homes and neighbours' for lunch, was most memorable for me. Venancio and Pedro were key to making that such a great experience. Venancio carried on with us to the Glover's Reef portion of the trip. Though we became part of a larger group, he was very attentive to making sure we were looked after well…"  Coleen Hackinen
Santa Teresa Village 
"...They were all terrific-energetic, enthusiastic, fun, safe, sense of humor. Particularly loved Venancio and his practical jokes and laugh! Enjoyed the visit to Pedro's home and family, and hearing his pride about his community…" Vicki Shepherd
Want to share your favourite memories of the Epic Belize or one of our other trips? 
Email us at info@islandexpeditions.com  or share on our Facebook or Instagram along with your favourite trip photos!
Looking for more information on the Epic Belize trip?
Check out our Epic Belize video below, view the trip details or contact us at 1.800.667.1630 or email: info@islandexpeditions.com for more information.