Going Green when traveling in Belize is something I promote wholeheartedly. Therefore, I came up with some of the top recommended eco adventures in San Ignacio, Belize. Check out Island Expeditions' Best of Belize: Maya Mountains to Glover's Reef package for similar adventures.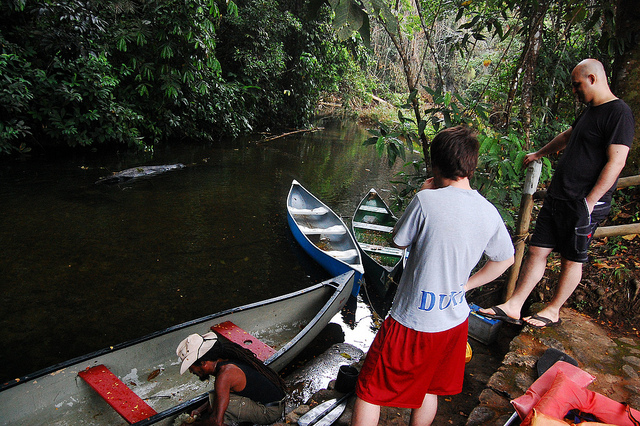 Getting ready for Barton Creek Cave Caneoing -- flickr/saucysalad
SAN IGNACIO is one of the most popular ecotourism destinations in Belize. This is because this small town is used as a main hub to explore the diverse cultural and adventure tours in the Cayo District. Cayo has something to offer tourists of all paths of life, most tours can be done by anyone but there are some activities that are not for the faint of heart.
In addition, many travelers use San Ignacio to stay overnight as they take daytrips to popular nearby Guatemalan attractions such as the ancient Maya city of Tikal and the quirky town of Flores, Peten.
The eco adventures I recommend are going to the San Ignacio farmers' market, exploring Maya temples and Maya caves, Mountain Pine Ridge sightseeing, taking a day trip to Chaa Creek's butterfly farm, medicinal trail and natural history museum, exploring the Macal and Mopan river, visiting the San Ignacio Resort Green Iguana exhibit, touring DuPlooy's Botanical Garden, and Cave Tubing or Zip-Lining at Jaguar Paw.
San Ignacio Farmers' Market
Every Saturday this local farmers' market becomes filled with Cayo farmers and residents of the surrounding villages. Everyone comes to either sell their fruits and vegetables or stock up with fresh produce for the upcoming week. Also available are art and craft stalls, meat shops, clothing stores, booths with used electronics, and various food stalls. This place is perfect to catch up on the diverse cultures of Belize, buy fresh fruits and vegetables or grab some local cuisine.
Maya temples and Maya caves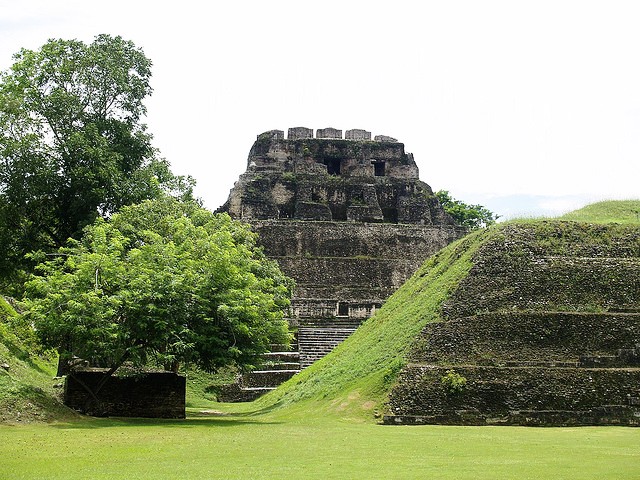 El Castillo, Xunantunich -- flickr/ahvega
The most popular Mayan temples in Cayo are Xunantunich, Cahal Pech and Caracol. El Castillo is Belize's steepest Mayan temple and is found at Xunantunich, this site can only be reached by means of a hand cranked ferry ride across the Mopan River in Succotz village. Cahal Pech is the closest temple to San Ignacio, this site is popular because of its unique setting; the forest surrounds the main site and makes the place seem extremely secluded. Caracol, is located in mountain pine ridge, it is the largest and most popular Mayan temple in Cayo, it also hosts the biggest structure in the entire country – the Caana temple. There are also several must-see caves in Cayo and two of the most visited are Barton Creek cave and Actun Tunichil Muknal, also known as the ATM Cave.
Day trip at Chaa Creek
The Lodge at Chaa Creek is renowned as one of Belize's first eco resort and adventure centre. On-site activities on the private reserve include taking guided tours of the Natural History Centre, viewing the life cycle of the Blue Morpho at the Butterfly Farm and guided tours of Ixchel's Rainforest Medicine Trail where a naturalist explains local plants and the therapeutic usage ancient Mayas used them for.
Mountain Pine Ridge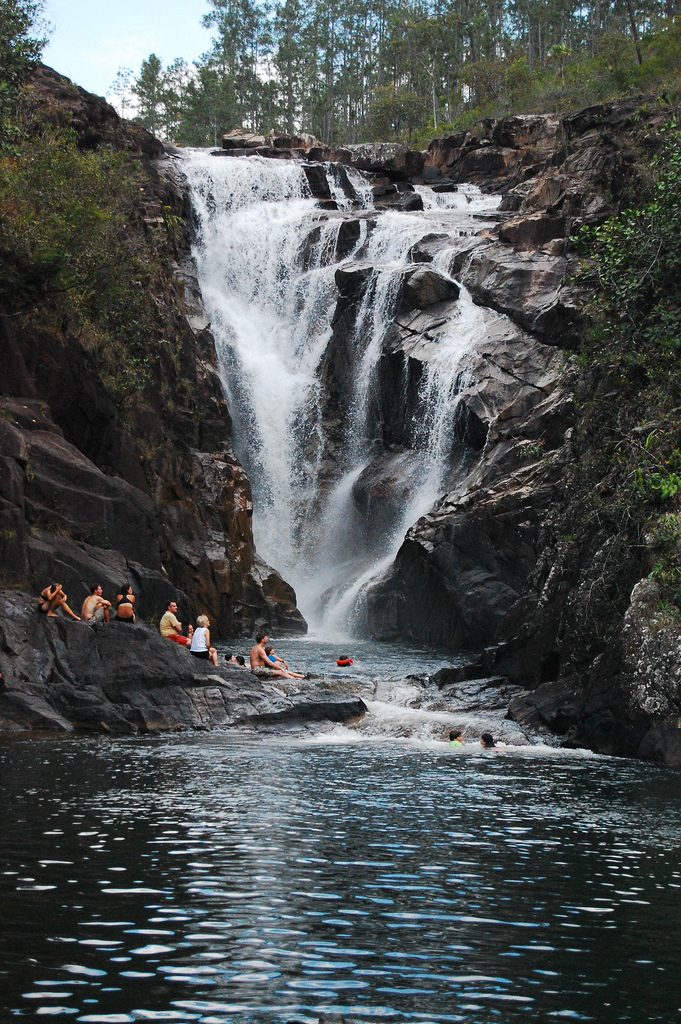 Big Rock Falls -- flickr/saucysalad
The Mountain Pine Ridge Forest Reserve (MPR) is the largest protected area in Belize, this area is known for its unique landscape, rushing rivers and waterfalls, caves, Maya temples, vast forests and teeming wildlife. It is anything but short of sightseeing activities and tours. Reasons to visit MPR are to see the cascading waters of the Rio On pools, Francis Ford Coppola's Blancaneaux Lodge, Big Rock Falls, the immense Rio Frio Cave, Caracol Maya Temple and to be used as the gateway to the Chiquibul Rainforest.
The Macal and Mopan River
Before the town of San Ignacio was named, it was referred to as El Cayo; this name was derived from the term "caye" which was used to describe San Ignacio since it was situated between the Mopan and the Macal River. These rivers are presently used for various activities such as birdwatching, canoeing, swimming, kayaking and tubing. Local tour operators such as Pacz Tours, Cayo Adventure Tours, Maya Walk and Hun Chiik tours can be contacted for details on these tours.
San Ignacio Resort Green Iguana Exhibit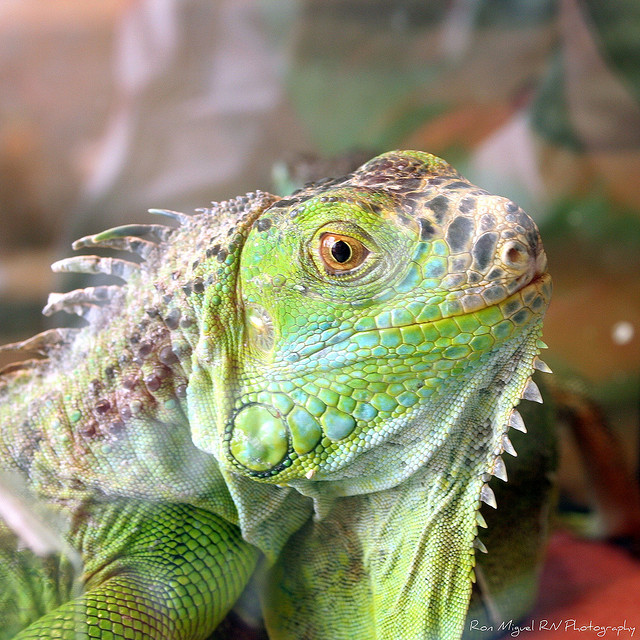 The Green Iguana -- flickr/kamoteus
With the premier intention of helping with the conservation of the threatened Green Iguana, San Ignacio Resort claims to have the only jungle in town. And they are using this space for good by hosting an educational exhibit aimed at creating awareness for the preservation of the Green Iguana. The on-site tour shows the Iguana's life cycle from egg incubation to hatching, rearing and releasing of juvenile iguanas.
DuPlooys Botanical Garden
DuPlooys is a small, intimate jungle resort nearby Chaa Creek and they have a beautiful onsite botanical garden. With the initial idea of doing a little conservation in Belize, various Belizean orchids and palms were collected and many tropical fruits were planted to adorn the area. Now, the Botanic Garden has surpassed expectations with an orchid house with over 300 individual plants and 120 species of identified orchids. DuPlooys offers educational programs for students and travelers, as well as providing a place that instils awareness for conservation and recreation for all visitors.
Cave Tubing or Zip-Lining at Jaguar Paw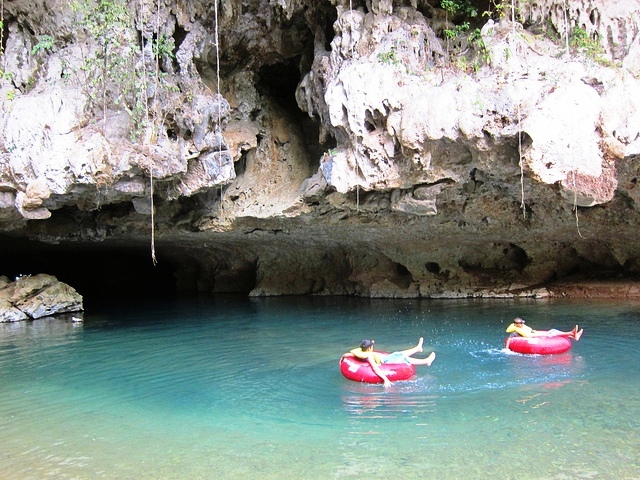 Cave Tubing in Belize -- flickr/satanoid
Jaguar Paw is resort located on the banks of the Caves Branch River and offers exhilarating cave tubing and zip-lining tours. Cave tubing is a unique experience that can only be done in Belize, individuals first have to hike through a jungle trail surrounded by flora and fauna and then jump into inner tubes which allows you to enter the Maya underworld (cave tunnels) and lazily float down the river. Zip-Lining is a popular combination tour with cave tubing because it is an incredible way to view the biodiversity that exists on the tree top canopies.
Where to stay when you go:
Chaa Creek Jungle Lodge - www.chaacreek.com
Duplooy's Jungle Lodge - www.duplooys.com
Parrots Nest - www.parrot-nest.com
Mountain Equestrian Trails - www.metbelize.com
Pooks Hill Lodge - www.pookshillbelize.com
Maya Mountain Lodge - www.mayamountain.com
Cohune Palms Resort - www.cohunepalms.com
Blancaneaux Lodge - www.blancaneaux.com
San Ignacio Resort Hotel - www.sanignaciobelize.com