Here is an excerpt from the new Lonely Planet book 'The World's Great Wonders' which features the Great Blue Hole at Lighthouse Reef.

Into the blue: The jawdropping 310 metre wide Great Blue Hole in Belize

AT 310m wide and 125m deep, this azure submarine sinkhole is a paradise for divers in search of crystal-clear water that hides treasures in its depths.

Welcome to the Great Blue Hole near Belize, a spectacular sight which Lonely Planet has explored for the new book The World's Great Wonders.

From above, it looks like an eye — a large, dark pupil surrounded by a sliver of turquoise iris, framed by the eyelids of the reef. But now that you're within its embrace, it's hard to get a sense of its circular shape.

A school of yellow angelfish linger by the reef. A lone parrotfish nibbles on the coral. Pressing on your scuba gear's purge valve, you follow the stream of bubbles from fellow divers. As you sink lower, you are surprised by the absence of marine wildlife down here. You peer into the darkness, hoping for a glimpse of a turtle, or maybe a shark. But 40m down, there is an even more spectacular sight.

Stalactites. The long swords of limestone, some 10m in length, cling to the roofs of cave inlets. At this depth they appear dirty brown in colour. You approach them tentatively, aware that one flick of a wayward fin could shatter eons of history. After all, stalactites started to form in these caves over 150,000 years ago.

Into the blue

The Great Blue Hole sits in the centre of Lighthouse Reef, a small atoll 70km off the coast of Belize. It's a diving hotspot, described by Jacques Cousteau as one of the top 10 diving sites in the world. In 1971, Cousteau took his ship Calypso to the Great Blue Hole to chart its depths.

When it first formed thousands of years ago, the sinkhole was not underwater. Scientists know this because stalactites exist inside the sinkhole, and yet stalactites cannot form underwater, only in dry air.

The different layers down the lengths of the stalactites act like a climate timeline. Around 150,000 years ago, when sea levels were 120m lower than today, subterranean caverns started to form. Then as the oceans began to rise, the caves gradually flooded.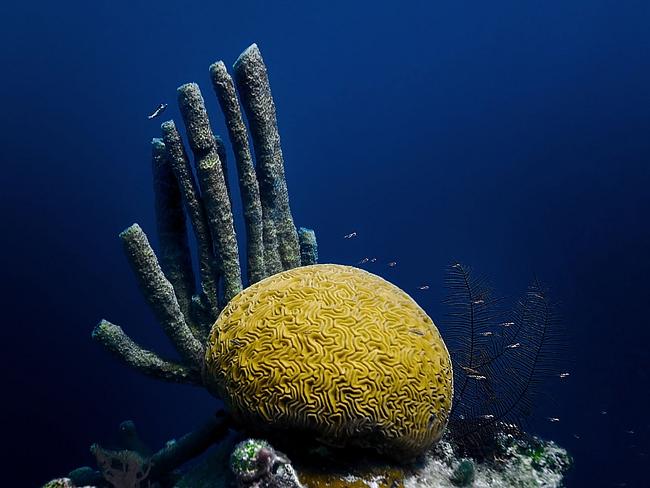 Getting to the Great Blue Hole

Fly into Belize City, or arrive overland from Guatemala or Mexico, or by boat from Guatemala or Honduras. Getting around Belize's islands and reefs involves taking tours or diving and snorkelling trips, using boats organised by island accommodations or chartering a vessel.

While you're there

Float downriver from Orange Walk Town into the depths of the jungle and the ruins of Lamanai, whose High Temple was one of the largest structures in the Mayan world when it was built in 100BC. Then search for elusive jaguar in the world's only jaguar reserve, the 518-sq-km Cockscomb Basin Wildlife Sanctuary. The jungle is home to all sorts of wildlife, including crocodiles, iguanas, peccaries, coatimundis, spider monkeys and howler monkeys, and countless species of birds. For a staggering array of marine wildlife, kayak Glover's Reef, where the cays in the central lagoon all have white-coral beaches.

Other great locations for blue holes

The Bahamas have more blue holes than any other country in the world and boast the deepest submarine sinkhole, Dean's Blue Hole, which plunges 202m down in a bay west of Long Island. It's also home to many inland caves, such as those on the Abaco Islands, which have been flooded by the sea via underground channels.

As tides have less impact in these inland caves, a layer of fresh rainwater sits on top of the denser salt water, cutting it off from atmospheric oxygen. Thriving in this anoxic lower layer are unique bacteria, whose metabolism heats the water up to as much as 40 degrees celcius.