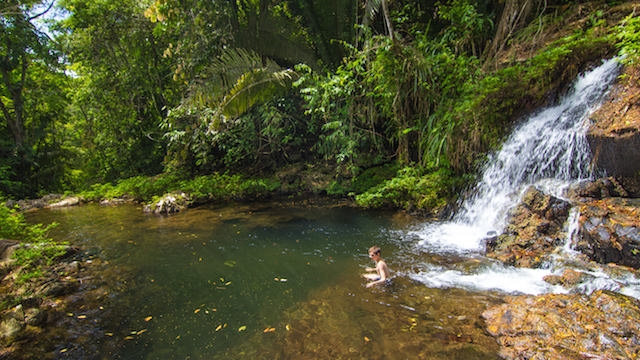 Belize is blessed with fantastic beaches, numerous palm fringed tropical islands and the perfect turquoise waters of the Caribbean Sea, providing many beautiful swimming spots. However, if you are venturing inland to Belize's rainforests and mountains, try seeking out one of these five swimming locations, some complete with cascading waterfalls.

Here is a list of our favourite inland Belize swimming spots and what makes them so special:

1. Mayflower Bocawina National Park

The Mayflower Bocawina National Park is located in the southern district of Stann Creek. In this beautiful national park, you can explore the lush rainforest and hike to refreshing waterfalls which are also perfect spots to swim. One of the most magnificent waterfalls in the park is Antelope Falls. Hike all the way to the top of the 1,000 foot falls and enjoy the breathtaking view of the tropical rainforest and the Caribbean Sea from the top. Instead of hiking back down, take the exhilarating 250ft guided waterfall rappel down. After this adventure, enjoy a refreshing swim in the emerald pools at the bottom of the falls. Bocawina Falls is also another awesome swimming spot and is located just a short 20-minute hike from Bocawina Rainforest Resort.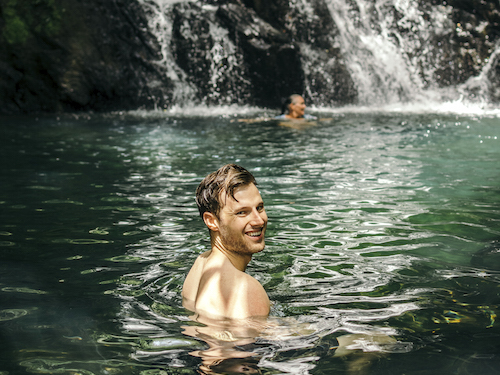 Swimming in the pools at the bottom of Antelope Falls

2. Five Blues Lake National Park

Five Blues Lake National Park is located just off the Hummingbird Highway about 22 miles from Belmopan. This is one of the newest parks in Belize and is centred around an intensely blue lake. This lake is a beautiful place to swim and is surrounded by towering limestone cliffs. The park is also a great location for birding and wildlife viewing. Over 200 species of birds have been identified in the park and the spectacular white hawk and black hawk eagle can often be spotted here. All five of Belize's wildcats are known to make their homes within the park's boundaries and look out for howler monkeys, tapir and gibnut.

3. Big Rock Waterfalls

Big Rock Falls is a 150-foot waterfall on the Privassion River that runs through the Mountain Pine Ridge Nature Reserve of the Cayo District of Belize. It's one of Belize's most spectacular waterfalls. The waters crash against large black rocks the entire way down, finally coming to rest in the round pool below. This pool is deep enough to swim in and lets you get impressively close to the waterfall.

Big Rock Falls, Belize. Photo courtesy of Roanokecollege

4. Cockscomb Basin Wildlife Sanctuary

The Cockscomb Basin Wildlife Sanctuary is a nature reserve in the Stann Creek District of south central Belize and is recognized internationally as the world's first jaguar preserve. It's also known for its spectacular waterfalls. The Cockscomb Basin Wildlife Sanctuary offers nearly 20 miles of marked hiking trails and most trails lead to at least one swimming hole. A visit to the Cockscomb Basin Wildlife Sanctuary is the perfect day trip if you are staying at Bocawina Rainforest Resort.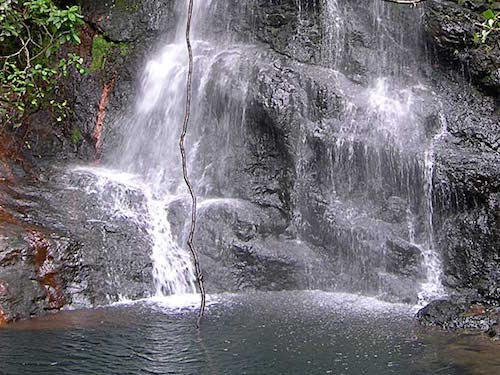 One of the waterfalls in the Cockscomb Basin Wildlife Sanctuary.

5. Hidden Valley Inn & Reserve at Mountain Pine Ridge

Hidden Valley Inn is a private nature reserve set on 7,200 acres of wilderness in the Maya Mountains. Guests staying at this luxury resort have access to miles of trails, spectacular waterfalls and secret swimming spots. You can even arrange for exclusive access to one of the most beautiful waterfalls and swimming holes in Belize - perfect for honeymooners or a stunning location for a special proposal. Hidden Valley Inn can even arrange a champagne lunch and pick up and drop off by vehicle to this romantic swimming spot. Other swimming holes in this private reserve include Devil's Falls and Butterfly Falls.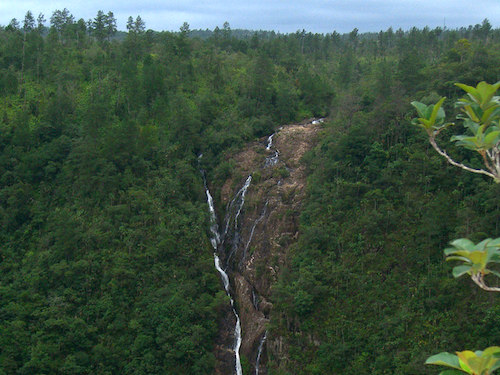 Hidden Valley Waterfall. Photo courtesy of Deanna Keahey

If you go:

Island Expeditions offers year-round adventure vacations to Belize. Many of these swimming locations are included in the itineraries of trips including the Rainforest and Reef Explorer trip and Rainforest Canopy Adventure. Make sure you check out our Belize vacation specials page for great deals.

Contact us at 1.800.667.1630 or email info@islandexpeditions.com and let one of our travel specialists help plan your Belize vacation.