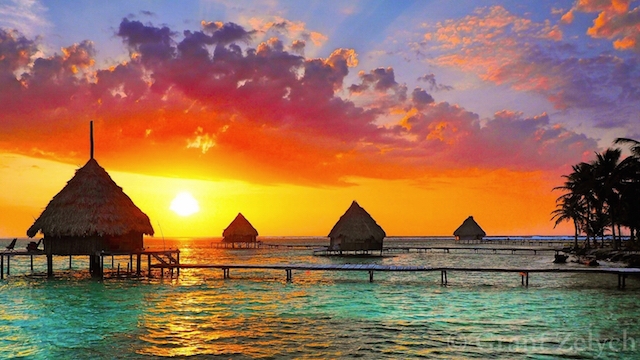 As the summer draws to close, we thought we would showcase the beautiful Belizean summer months in photographs through the eyes of these Instagrammers.

Summer is the time to discover Belize during the quiet 'green' season, from climbing to the top of ancient Mayan ruins, zip-lining through the Mayflower Bocawina National Park to relaxing on the white sand beaches in the seaside villages of Placencia and Hopkins.

Check out the photographs below and we hope you enjoy this recollection of the past summer in Belize.

1. Learning the fine art of cracking a coconut at Tobacco Caye Paradise Cabins
The art of cracking a coconut is just that.... An art. We need some work #coconuts#itshard#belizelifestyle#tobaccocaye

A photo posted by Lael Sunrise (@laelsunrise) on Aug 8, 2016 at 8:19am PDT
//

2. Spending quality family time, ziplining through the rainforest canopy at Bocawina Rainforest Resort
#zipline #bocawina #Belize @bocawina

A photo posted by Smeeta Mahanti (@smeetamahanti) on Aug 18, 2016 at 7:22pm PDT
//

3. Climbing to the top of the highest temple in Belize, El Castillo at Xunantunich and enjoying the breathtaking view of Western Belize, the old waterways and Guatemala.
#belize #xunantunich #travelling #lifeisbeautiful

A photo posted by Andreas Hügerich (@andreas.huegerich) on Aug 24, 2016 at 12:20pm PDT
//

4. Escaping to Bocawina Rainforest Resort and enjoying the refreshing, cooler climate that the jungle canopy provides.
Beyond gorgeous here in the rainforest. #Unbeliezeable#hurricanepleasedontcometonight

A photo posted by Lael Sunrise (@laelsunrise) on Aug 2, 2016 at 4:39pm PDT

5. Visiting one of the best birding destinations in Belize - The Crooked Tree Wildlife Sanctuary
The Bare-throated Tiger-Heron was walking the edge of the lagoon at Bird's Eye View Lodge, Belize. Digiscoped during the Eagle Optics/ Swarovski Optik birding tour to Belize, using an STX 95 with TLS APO 23 and Lumix GH4 camera. #eagleoptics #swarovskioptik #swarovskioptik_nature #digiscoping #swarovskioptik_travelandleisure #birding #digiscopingbirds #birdsofinstagram #birdingbelize

A photo posted by Clay Taylor (@claytaylorbirder) on Mar 25, 2016 at 1:03pm PDT
// < br > < br > < br > < br > // ]]>

6. Exploring the beaches in the Garifuna fishing village of Hopkins
Early morning ocean winds. Prepping for a day of diving. Hopkins, Belize

A photo posted by Liza (@elindsayb) on Aug 18, 2016 at 2:26am PDT
//

7. Spending some relaxing hammock time, overlooking the turquiose waters at Tobacco Caye Paradise
My home for the next few days. Pure heaven! #paradise #belize #girlstrip #tobaccocaye #wanderlust

A photo posted by Melody Fillier (@mlfillier_foodfitnessfuzzbutts) on Aug 25, 2016 at 4:40am PDT
//

8. Experiencing waterfall rappelling in the Mayflower Bocawina National Park
Hiking the Antelope waterfall... Then rappel down #belize #bocawina

A photo posted by Here Today, Gone Tomorrow (@ricardocoral) on Mar 22, 2016 at 5:55pm PDT
//

We run small group guided adventures during our Expedition Season which runs November through May. If you are traveling between June and October, be sure to check out these year-round lodge-based adventures and unique off-the-grid lodges...great options for any time of year!