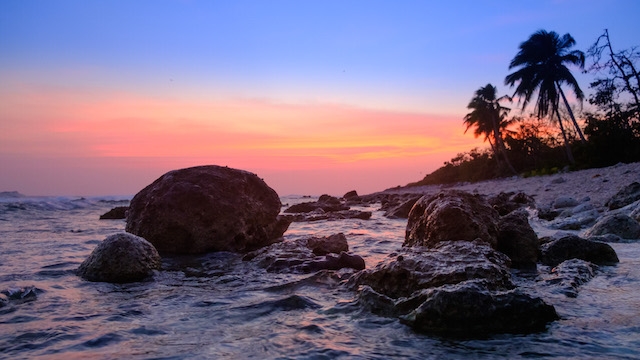 We are excited to announce an upcoming Belize photography trip. The 7-night Tropical Belize Photography Expedition and Workshop will take place from March 9-16, 2018. This special expedition will visit some of the most exotic wilderness locations in Belize, from remote tropical cayes to the lush rainforest and ancient Mayan ruins in the interior of the country.

For more information or to book the photography workshop, call 1.800.667.1630 or email info@islandexpeditions.com.

The workshop will be led by the renowned international landscape and fine art photographer, Vladimir Kostka. We recently caught up with Vladimir for an impromptu interview:

How long have you been a professional photographer?

I feel that I was born a photographer. From a young age, I learned to see beauty in nature and capture what I saw with a camera. Vast spaces draw my attention, they give me the feeling of freedom, happiness and wholeness. I guess I am one of those lucky guys who are able to earn an income from doing what I love.

How did you get into landscape photography and what inspired you?

I travel the world to visit many countries and experience the unique beauty each new destination affords me. My goal has always been to translate what I see, so that others can experience the same sensation by viewing my work in large prints.

Why did you choose Belize for your Photography Expedition and Workshop?

You have to be inspired to create great photographs; Belize intrigued me with its mixture of magnificent visuals and relaxing environment. I think the location of my photographs chooses me, not the other way.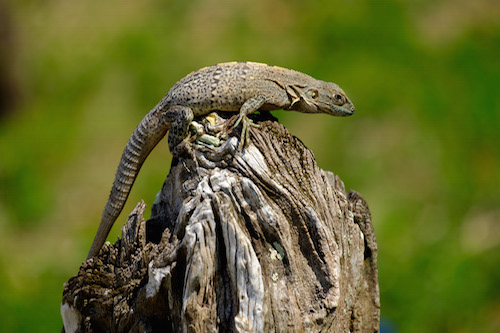 Vladimir Kostka captures this stunning photo of an iguana on his recent visit to Belize

What are the best places to photograph in Belize?

There are countless scenic opportunities in Belize, from tropical beaches to lush rainforests and waterfalls. My favourite locations would be mostly the places we are going to spend time during the workshops. Photographing birds from the canoe at the Birds Eye View Resort, to capturing the white sand beaches and sunsets at the Glover's Reef Basecamp on Southwest Caye and the magnificent waterfalls at the Bocawina Rainforest Resort.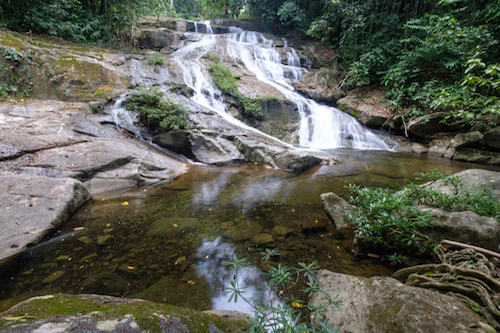 A Waterfall in the Mayflower Bocawina National Park, Belize

You visited Belize earlier this year - what is your favourite photograph that you took there and why?

I made a photograph of a dock at Half Moon Caye on Lighthouse Reef. It has the most amazing blue sky and ocean, my shadow is seen waving as I held the camera. Am I waving hello, welcoming a visitor, or waving goodbye to a new friend?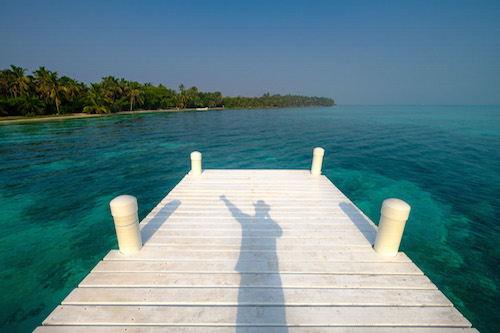 Vladimir's favourite photo - the dock at Half Moon Caye, Lighthouse Reef, Belize

What tips would you share for amateur photographers who are interested in travel photography?

The best camera is the one you have with you. Always carry a camera with you; some of the best photographs I have taken were during an evening stroll or on route to dinner.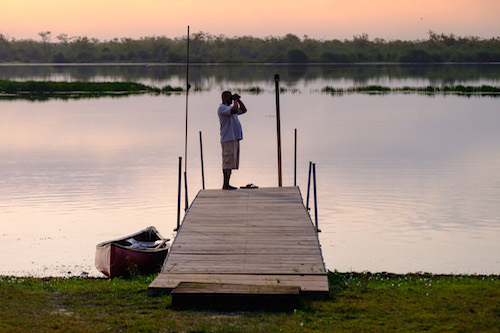 Sunrise at the Crooked Tree Wildlife Sanctuary, Belize

Do guests need any previous photography experience to join your photography tour in Belize?

Of course, a basic knowledge of your camera's operation is handy. Passion and enthusiasm are all you need to bring.

What will be in your photography kit bag when you travel to Belize in March?

My favourite camera(s), Fujifilm and lenses, filters, tripod and lots of memory cards and backup drive.

The cameras I use nowadays are Fujifilm GFX 50S and Fujifilm XT-2 with several Fujinon lenses ..they are really great. But, ultimately, the best camera is the one you have with you.

Also, a quick check at Leo's Vancouver (my local camera store) to make sure I have all my essentials covered and I'm ready to go. Sunglasses, hat and sunscreen are a must too!

If you go:

There are only 12 spots available on this Belize 7-night Tropical Belize Photography Expedition and Workshop. Call 1.800.667.1630 or email info@islandexpeditions.com for more information and to book your spot on this Belize photography tour.

Click here for a detailed trip itinerary on the 7 night Tropical Belize Photography Expedition and Workshop.