Explore the origins of Belize's Carnival, starting off their September Celebrations.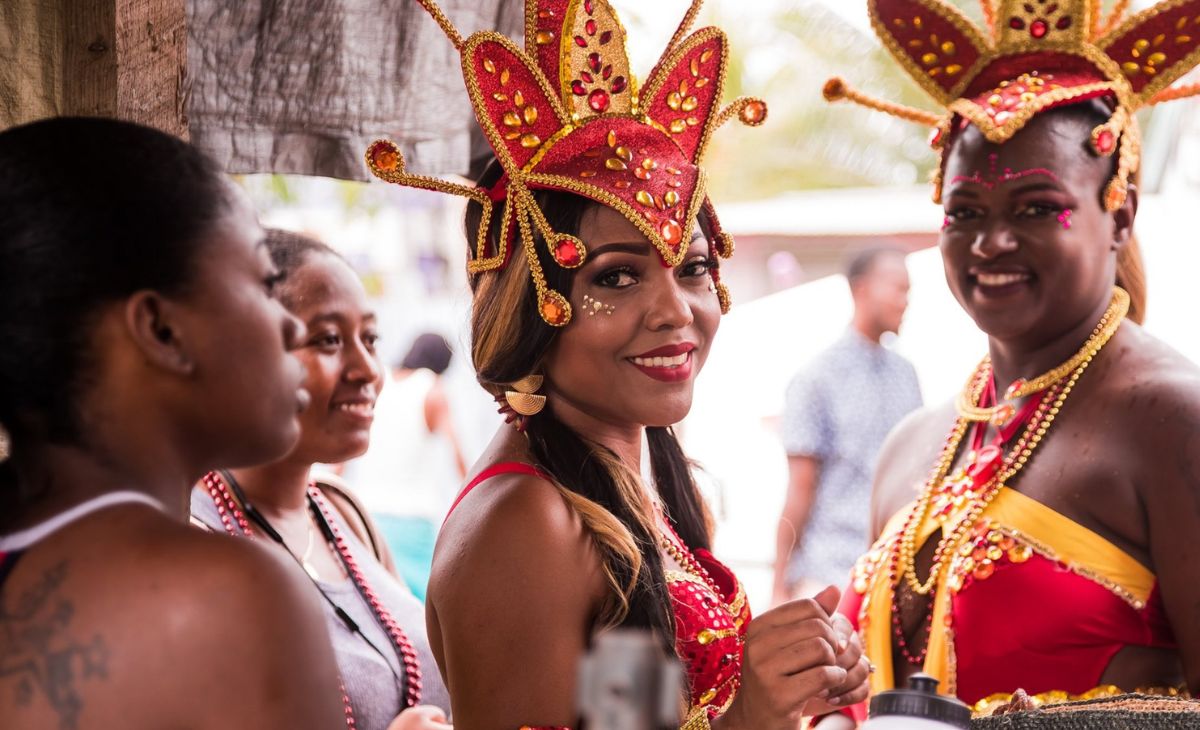 Belize's September Celebrations starts off with Carnival
September is an active month of Celebration, and it all starts with Belize's Carnival, a traditional festivity which includes masquerade competitions, pageants, and concerts, but it all peaks the first weekend of September with the "Road March"!

Belize's Carnival is back after a 2-year hiatus, and the theme is "We outside, We back pon the road"  -  This extraordinary event brings the people of Belize together and this year will take place on September 3, 2022.
Carnival in Belize is a collective expression of Maya, African, and European influences - a national celebration where everybody is welcome. A festival filled with street theatre, music, dance and colourful costumes - these beautiful costumes catch everyone's eyes as they are adorned with sequins, glitter, and feathers. These confections are an extravaganza of colour!

Carnival has its origins in the 1800s emancipation of slavery in the Caribbean. In Belize Carnival takes place in September as part of Belize's month-long celebrations of independence.  The event was originally created in 1975 by five free-spirited women:  Ms. June, Ms. Alice, Ms. Crystal, Ms. Maude and Ms. Myrtle. Their idea was to  "spice up the tenth of September celebrations"  (September 10th is George's Caye Day and it commemorates a victory in a key battle against the Spanish in 1798 - Think of it as Belize's Cinco de Mayo… it is BIG!) 

The five women created the Belize Women for Cultural Preservation, and their idea was to have their children parading through the streets of Belize City, and they brought along other children and parents, growing to the big festivities we have today.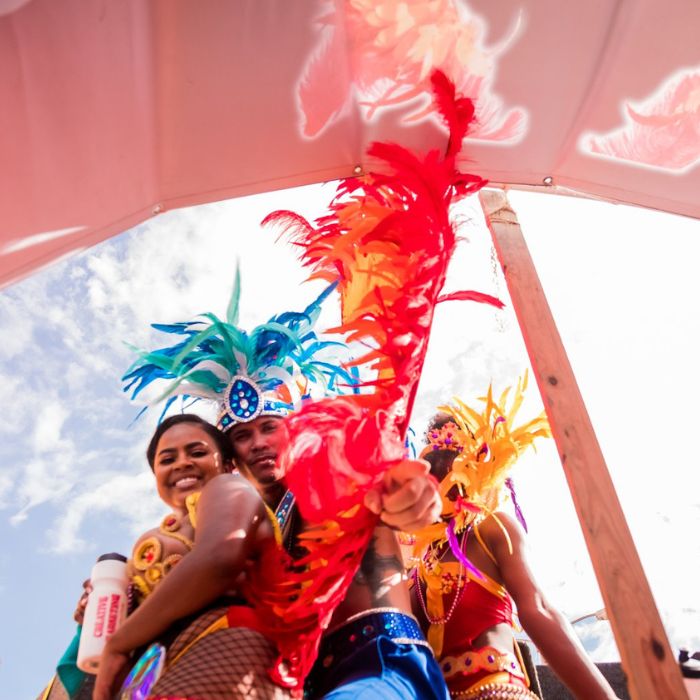 Festivities before the 'Road March" 
The first challenge ahead of the big Road March is the 'Carnival King and Queen pageant competition', in which contestants must parade and showcase their elaborate costumes.  The event is inclusive of junior and senior categories.
 
The second challenge is 'Mas Camp' where all participating groups are judged on their artistic elements. This also is a preview of what people can expect of each 'Mas Band' on the big day.
And finally, it all concludes with the Road March or Carnival Parade.  Carnival day starts with J'ouvert  - a pre-carnival street party with people fully covered in paint, mud or chocolate dancing until the early hours of the morning- this is before dawn! In the afternoon groups proceed to parade through the streets of Belize City in The Road March. This is where all 'Mas Bands' parade with their floats displaying bright costumes and dancing to the sounds of Calypso and Soca music. Spectators watch the parade from the street, rooftops or their home verandas, but most people dance along the parade and behind the floats following the music.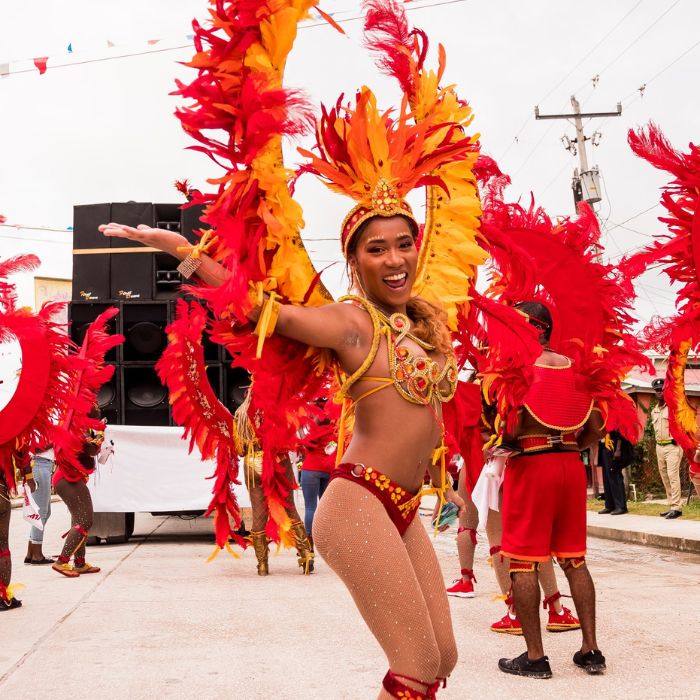 But what is a "Mas Band"?  
Mas is short for 'masquerade'.  
'Mas Bands' select a theme, a King and Queen to represent them. All band members dress up in colourful costumes and masks to dance through the parade route. These beautiful costumes are adorned with sequins, glitter, and feathers. The costumes are essential to the carnival, and carnival-goers are encouraged to join a band and play in this masquerade (or 'Mas').
Some popular Mas Bands include Ilusive, Jump Street Posse, Belizean Jewels, Bacchanhal Mas Band, Caribbean Treasures and more.
September is a month of Celebration! Make sure you add Belize's Carnival to your next holiday trip!  And if you take part in this big celebration, make sure you wear your comfortable dancing shoes and dance, dance, dance!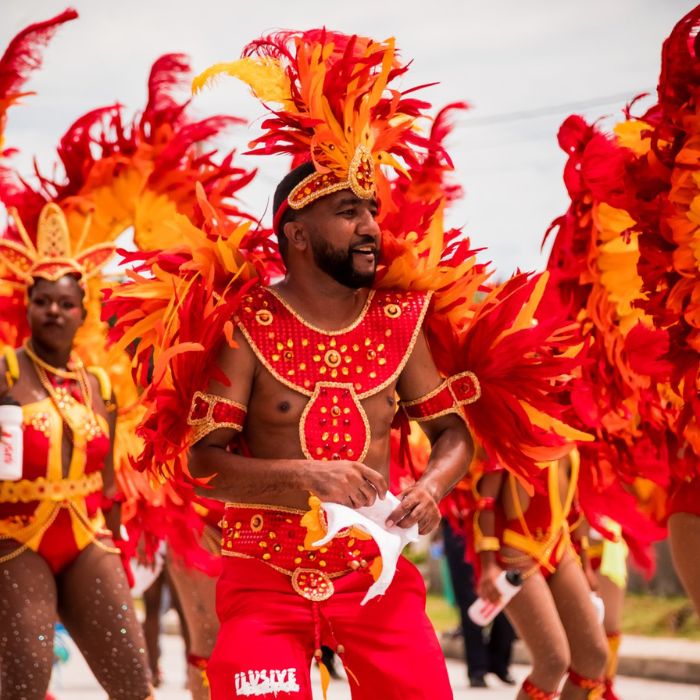 Check out some of the images from  Ilusive Mas Band! - Follow them on Social Media @ilusivemas on Facebook and Instagram or visit their website at www.ilusivemas.com

 "Belize's latest addition to the carnival scene. It intends to become a premium carnival band in Belize.  We believe in providing our all masqueraders with exotic, full feathered costumes, ample drinks, premium soca music and impeccable customer service. This is what we believe, this is what we strive for. But most importantly, we aim to continue giving you the greatest time on the road."