Posted on Tuesday, September 26, 2017
One of the most important tips for visiting Belize for the first time is to plan in advance.

Belize is a beautiful and diverse country. A well-balanced itinerary should include a visit to its tropical rainforests to see the incredible wildlife, discover the ancient Mayan culture and explore the cayes, beaches and the ocean playground of the Belize Barrier Reef. Belize is an easy destination to create an experience that includes adventure, adrenaline-filled activities and plenty of relaxation time.

Most visitors to Belize will typically stay for 7-10 days and within this time frame, it's best to choose one or two specific areas to visit.

We've come up with a few itineraries to help you plan your perfect Belize vacation:
Itinerary #1: Glover's Reef, Jungle Rainforests & Remote Mayan Villages - 8 Nights
Spend two nights exploring Glover's Reef Atoll and stay on beautiful Southwest Caye. Explore the turquoise waters and rich coral reefs of this protected marine reserve by sea kayak, snorkel and SUP.
Venture into the rainforest and spend two nights in an eco-lodge in the heart of the Mayflower Bocawina National Park. Enjoy adrenaline-filled activities including a rainforest canopy zipline and exhilarating waterfall rappel.
Travel off the grid into a remote wilderness region of Belize, whitewater kayak down the Moho River, camp in the jungle and visit Mayan villages far removed from the outside world.
Like the sound of this itinerary? Find out more details about our Epic Belize trip.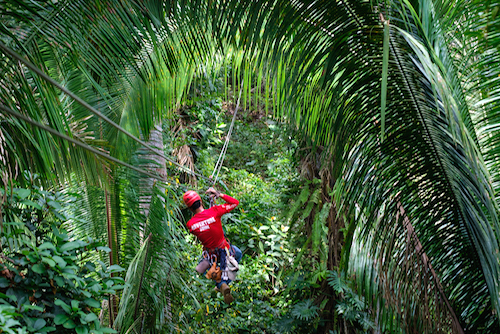 Ziplining at Bocawina Rainforest Resort & Adventures
Itinerary #2: Crooked Tree Wildlife Sanctuary & Lighthouse Reef Atoll - 6 or 8 Nights
Spend two days exploring the Crooked Tree Wildlife Sanctuary and the surrounding areas. This is an amazing area which offers some of the best birding and wildlife opportunities in Belize. The most famous resident at the Crooked Tree Wildlife Sanctuary is the Jabiru Stork. Turtles, parrots, ibis, morelet's crocodiles, and iguanas are frequently seen.
Venture out by boat to the Lighthouse Reef Atoll, a tropical marine park and UNESCO World Heritage site, located fifty-five miles from the shore of the Belize mainland.
Stay on Half Moon Caye, a protected island managed by the Belize Audubon Society and home to 4000 red-footed boobies.
Enjoy 6 or 8 nights of superb snorkeling, sea kayaking and paddle boarding. Experience snorkeling at Jacque Cousteau's legendary Blue Hole and the Aquarium.
Learn more about the Lighthouse Reef Adventure itinerary.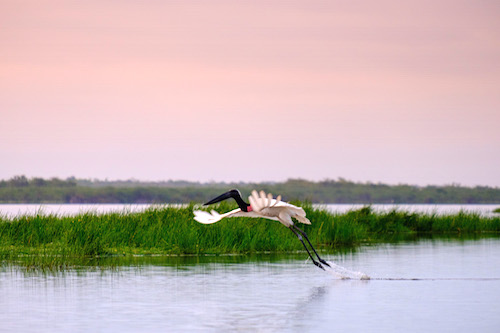 Jabiru Stork at Crooked Tree Wildlife Sanctuary
Itinerary #3: Belize Zoo & Southwater Caye Marine Reserve - 6 Nights
Start this Belize adventure with a stay at the Tropical Education Center and enjoy a specially-arranged night tour of the Belize Zoo. A visit to the zoo is a great introduction to native wildlife and Belizean ecology.
Spend the rest of this Belize vacation on an incredible guided paddling journey on the Belize Southern Barrier Reef system.
Paddle, snorkel, kayak sail and SUP through the turquoise waters and sheltered lagoons of Southwater Caye Marine Reserve. Visits beautiful tropical islands including Tobacco Caye, Southwater Caye and Billy Hawk Caye.
Find out all the details about the Paradise Island trip.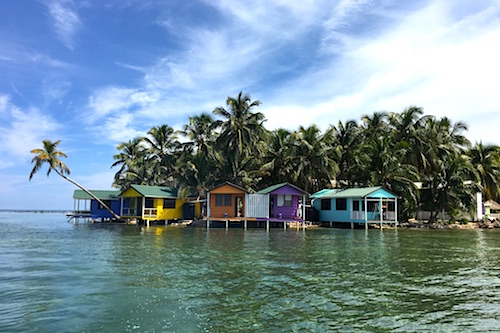 Tobacco Caye, Southwater Caye Marine Reserve

Itinerary #4: Xunantunich Ruins, Archeological Mayan Cave & Glover's Reef Atoll - 7 Nights
Venture inland for a Xunantunich ruins visit and an archaeological cave hike in the lush rainforest. Spend two nights at the Cahal Pech Village Resort.
Explore and stay on Glover's Reef Atoll, a protected marine park and designated world heritage site thirty-six miles offshore of mainland Belize.
Spend five and a half days in one of the richest marine environments in the Caribbean Sea. Paddle, snorkel, kayak sail, fish, and SUP as you explore the turquoise lagoons and thriving coral reefs.
Find out more about the Glover's Reef & Mayan Caves itinerary.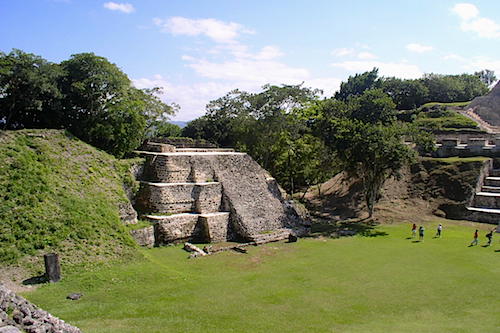 The ruins at Xunantunich


Relevant Links:

If you go:
Call
1.800.667.1630
or email
info@islandexpeditions.com
and get trip planning ideas and advice from one of our Belize Travel Specialists.