Posted on Thursday, May 11, 2017
What should you see and do if you only have one week to visit Belize? Here are four Belize itineraries to start you thinking about your perfect Belize vacation.

Belize Year Round Itineraries

Belize is a wonderful place to visit at any time of year. The summer months from June to October are a quieter time to visit Belize with fewer visitors and lower prices for accommodations; which means there are some great opportunities and specials to take advantage of. The following itineraries are available for departures on any date and at any time of year.

Itineary #1: Explore Belize's Rainforest and Reef
A must do on a visit to Belize is to explore the tropical rainforest and the second largest barrier reef in the world. Australia has the largest reef, but it's widely known that it's
deteriorating
from bleaching. The Rainforest and Reef itinerary trip combines a visit to the tropical rainforest of the Mayflower Bocawina National Park and a secluded island on the Belize Barrier Reef called Tobacco Caye.
Day 1: Depart Dangriga and travel to Bocawina Rainforest Resort.
Day 2: Discover the indigenous birds and wildlife of Mayflower Bocawina National Park, 7000 acres of untouched, tropical rainforest. Hike to five different waterfalls and discover unexcavated Mayan ruins.
Day 3: Experience Belize's longest zip line adventure plus the only waterfall rappelling in the country.
Day 4: Enjoy the last morning exploring the rainforest, before travelling by van and boat to Tobacco Caye in the Southwater Caye Marine Reserve.
Day 5: Spend the day snorkeling, kayaking or SUP in this 117,878 acre marine wonderland.
Day 6: Another day to explore the reef or spend time relaxing in a hammock right on your own private deck overlooking the Caribbean Sea.
Day 7: On the final morning, enjoy an early swim or paddle before boarding the return boat to the mainland.
Now's the time to go! Chill out in Belize this summer and get a free night in the rainforest! Book our 6-night/7-day
Rainforest & Reef Explorer
trip from May 1 to August 31, 2017 and get a free extra night at Bocawina Rainforest Resort & Adventures.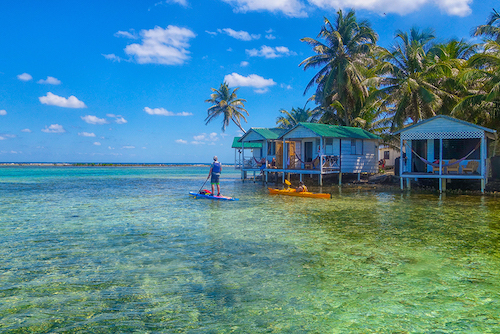 Kayaking and SUP at Tobacco Caye

Itineary #2: Discover Belize's Jungles and Beaches

This itinerary is ideal if you are looking to combine an off-the-grid rainforest experience with some beach time at the Garifuna fishing village of Hopkins or the seaside village of Placencia.
Day 1: Arrive in the Garifuna town of Dangriga, where you will be picked up and brought to Bocawina Rainforest Resort, in the heart of Mayflower Bocawina National Park.
Day 2: Experience early morning in the rainforest, and the cacophony of sounds in the waking wilderness. After breakfast, go on the Antelope Falls Waterfall Rappel adventure or visit the Cockscomb Wildlife Sanctuary.
Day 3-4: Venture further afield to explore the Mayan ruins of Cahal Pech or enjoy the flexibility of picking your own adventures from the activities and excursions available on-site and off-site at the Bocawina Rainforest Resort.
Day 5-7: Travel from Bocawina to nearby Placencia Village where you can relax by the pool, hop on a bicycle, stroll the beach and get into the vibe of this eclectic seaside village. Or spend three nights at a beach hotel in the coastal village of Hopkins and experience the community's rich Garifuna culture.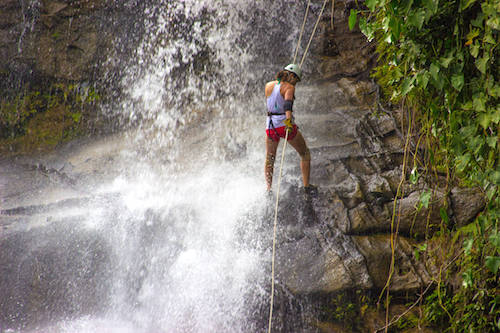 Waterfall Rappelling in the Mayflower Bocawina National Park

Belize Winter Itineraries

These itineraries are available from November through to May. This is the best time of the year to explore the remote atolls off the mainland of Belize.

Itineary #3: Visit the Belize Zoo, Mayan rainforest caves and Glover's Reef Atoll

This itinerary includes a nocturnal zoo tour, a rainforest cave float, and a stay on a remote island basecamp and so you can explore Glover's Reef Atoll.
Day 1 - Spend the night in a forest cabana at the Belize Zoo's Tropical Education Center and enjoy a specially arranged nocturnal zoo tour to check out the wildlife of Belize.
Day 2 – Enjoy the day exploring the River of Caves area of Belize and discovering the fascinating Darknight cave system.
Days 3-6 – Spend the next few days at our Glover's Reef Basecamp on Southwest Caye paddling, snorkeling the inner and outer walls of the reef, SUP and learning to sail a kayak.
Day 7 – Enjoy one last early morning swim or beach walk before heading back on the boat to mainland Belize.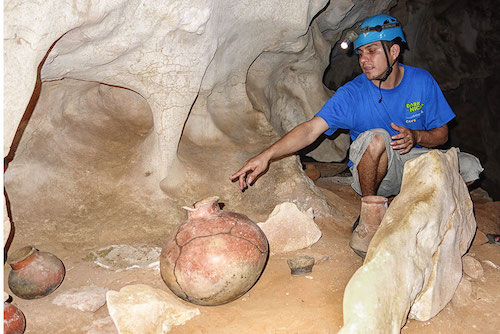 Exploring the Darknight Cave System

Itineary #4:

This Belize itinerary starts with a visit to Crooked Tree Wildlife Sanctuary, before heading out to the Lighthouse Reef Atoll and the legendary Blue Hole.
Day 1 - After arriving in Belize, travel to the Crooked Tree Wildlife Sanctuary.
Day 2 - Enjoy bird and wildlife viewing on an early morning boat tour of Crooked Tree lagoon, before the boat ride out to our Lighthouse Reef Basecamp on Half Moon Caye.
Days 3-6 – Explore Lighthouse Reef. Check out the amazing red-footed booby colony from the viewing platform on Half Moon Caye. Go on a snorkeling excursion to the Blue Hole. Choose from morning and afternoon guided reef activities or enjoy time at leisure, relaxing in your hammock or walking the trails. Snorkel 'The Aquarium' with its towering coral formations and profusion of fish.
Day 7 – Enjoy one last morning of reef activities before returning to the mainland by charter boat.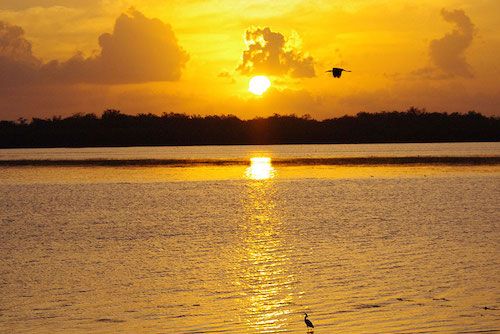 Birding paradise at Crooked Tree Wildlife Sanctuary

Are you looking to customize your 7 day itinerary in Belize?
Island Expeditions travel planners and guides have the experience to bring you to any region of Belize and we have the know-how to expertly outfit most activities you can think of. A great advantage of custom itineraries to Belize, is that we are able to work with you from the beginning to create a trip that is on your schedule, at your pace and is your dream.
Contact us
today for more information.