Posted on Wednesday, August 23, 2017
It's nearing the end of August and many of us are still soaking up summer, but with winter just around the corner, now is the time to start planning your escape from the upcoming cold season and ensure a stress-free warm Belize vacation.
Flying to Belize from Canada and the United Stated is easier than ever.
WestJet
recently announced a new direct service to Belize from both Calgary International Airport and Toronto Pearson International Airport.
Air Canada
is now offering a direct flight to Belize from Toronto.
Southwest Airlines
has direct nonstop flights to Belize from Houston, Denver and Fort Lauderdale. And for those of you planning a trip to Belize from Europe,
American Airlines
has a flight that will eliminate the need to have an overnight connection in the US. This flight departs London Heathrow and has a short connection in Miami before landing in Belize City.
To take advantage of
direct flights to Belize
over the Christmas and New Year Holidays, it is wise to book early and take advantage of the lowest airfares.

Escape the Cold: The Weather in Belize During December

Average December temperatures in Belize range from a low of 71°F or 22°C to a high of 80°F or 27°C. You can expect the days to be quite mild and the nights cool, the perfect weather for a tropical Christmas vacation.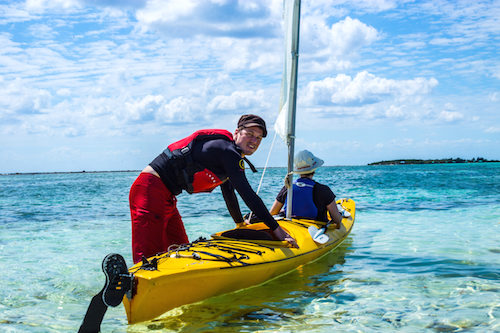 Kayaking on Glover's Reef Atoll
Accommodation, Activities: Plan Ahead
Planning your Belize accommodation for a Christmas vacation will depend on the dynamics of your traveling companions. If you are planning a family trip with children or teens, an all-inclusive concept can be a great option. Our Basecamp trips on
Lighthouse Reef
and
Glover's Reef
include all meals, activities, accommodation and boat transport to and from the cayes. Once you are at the Basecamps, everyone can relax and enjoy flexibility and choices in daily guided reef activities, so families can do things together or separately.
Journey trips, such as our
Paradise Islands
trip in the Southwater Caye Marine Reserve, are moving vacations where you travel from point A to B daily or several times during the trip. This style of Belize adventure is perfect for couples or solo travelers who would like the benefits of group camaraderie and individual flexibility.

Our highly trained guides will fill your days with enriching experiences and help you learn new paddling/snorkeling skills or perfect old ones. As well as being outdoor adventurers, our guides are part of the local communities and love to share stories, teach you about the Belizean culture and have fun. You will leave Belize with warm memories of your guides and new lifelong friendships with other guests.
Belize lodge based trips are ideal for those interested in discovering the rainforest, exploring Maya ruins, zip lining through the jungle, rappelling down a waterfall, hiking, birding and wildlife viewing.
Bocawina Rainforest Resort
is located in the heart of the Mayflower Bocawina National Park and is the perfect place to explore the rainforest and enjoy the on site activities. Many guests like to add on a stay at this Belize rainforest eco-resort before or after a stay on the reef.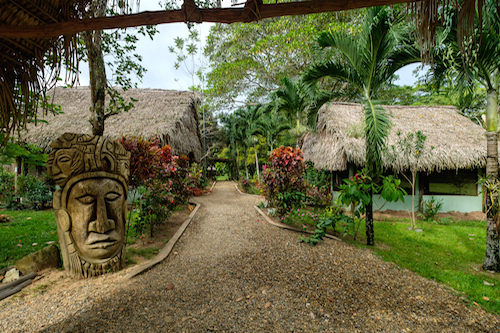 Bocawina Rainforest Resort, Belize
Here are our Belize Christmas Top 5 Things To Do:

Activities: Enjoy the novelty of spending a Christmas vacation experiencing water sports in a beautiful tropical destination. This year, leave the skis behind and go snorkeling, learn to sail a kayak or stand-up-paddleboard in the turquoise waters of Lighthouse Reef Atoll or Glover's Reef Atoll.
Eat:
This Christmas experience a
Rumpopo
, the well-known Belizean version of eggnog. You will find all the traditional Christmas foods in Belize such as turkey with all the trimmings, but this is also a wonderful time of year to enjoy fresh seafood, tropical fruits and Belizean baked goods.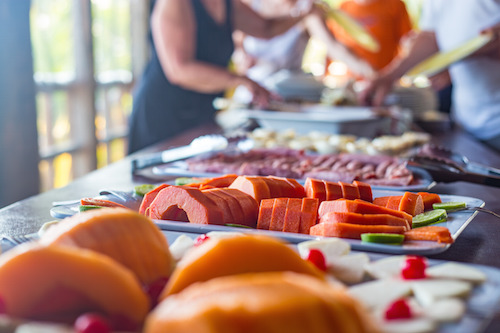 Enjoy a delicious assortment of seafood, grilled meats, tropical fruits and fresh baking at our Basecamps.
Reconnect:
Christmas is an important time of year to reconnect with family and friends. Basecamp trips to
Lighthouse Reef
and
Glover's Reef
make it easy to unplug and reconnect with family - there is no WiFi or cell phone service. Without the distraction of iPads, iPhones and other electronic devices, it's easy to make Christmas memories together with your family.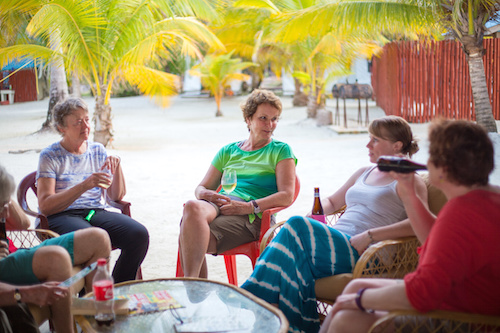 Reconnect with family and friends on your Belize Christmas vacation.

Music, Dancing & Parties: Belize is a country of people that love music, dancing and parties! During the Christmas and New Year holidays, the local Garifuna communities in Belize take to the streets to enjoy the traditional Jankunu and Charikanari dancers. Christmas is a wonderful time of year to immerse yourself in the Garifuna culture.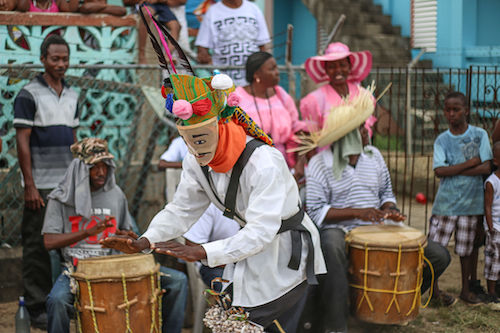 Traditional Jankunu and Charikanari dancers
Parades: Around Christmas time you can see boat parades on Ambergris Caye and in Placencia. There is also the annual Love FM Christmas Parade in downtown San Pedro.
Late summer is the perfect opportunity to start to think about Christmas holidays, which is one of the most popular times to travel to Belize. Plan ahead, leave the cold behind and enjoy a tropical Belize Christmas vacation this year.
Contact one of our Belize travel specialists at
1.800.667.1630
or email
info@islandexpeditions.com
and let us help you plan your Belize Christmas vacation. We also offer special pricing for families and are pleased to extend a 30% discount for children under 16 when the family is sharing accommodation.