Posted on Wednesday, April 20, 2016
Tobacco Caye is located in the middle of the Belize Barrier Reef at the northern edge of the South Water Caye Marine Reserve. This stunning palm fringed 5 acre island, has a year round population of only 30 people. Outside Magazine named this tiny islet as
one of 7 islands to cure your winter Wanderlust
!
A stay at
Tobacco Caye Paradise Cabins
is the perfect staging point to explore the many islands, mangrove ranges and spectacular snorkeling in 'Tobacco Cut' just south of the island. This local island lodge features six over the water cabanas and is open year round.
Here are some Tobacco Caye favorites:


The "Over Water' Cabanas at Tobacco Caye Paradise
The decks at Tobacco Caye Paradise are amazing! What better way to relax after a day of adventure than in your own hammock perfectly situated above the turquoise tropical waters of the Caribbean.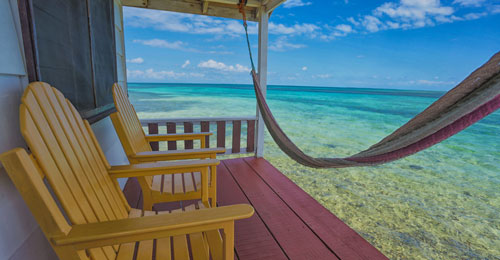 Belizean Sunrises & Sunsets
This comes up again and again! The Tobacco Caye sunrises and sunsets are breathtaking…whether sitting on the local dock or swaying in the hammock on the deck of your cabana.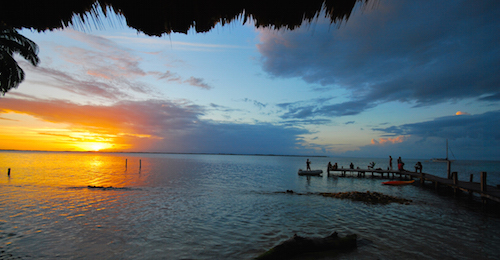 Kayaking, SUP and Snorkeling on the Barrier Reef
Kayak, snorkel gear and SUP rentals are available to all guests and visitors staying at Tobacco Caye Paradise Cabins. There is world class snorkeling right off the beach. The east side of the island has the Belize Barrier Reef as a backdrop and is a wonderful spot for paddling, SUP and diving.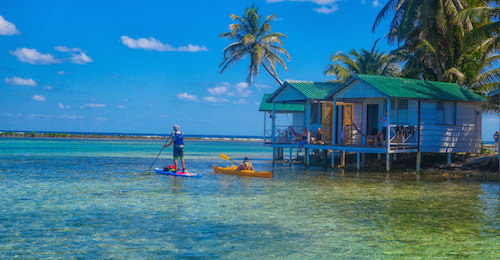 A Refreshing Belikin at Sunset
To end the day, enjoy a local Belikin beer and take in a magnificent Belizean sunset. The nearby dock is a favorite viewing spot, as is the local watering hole - an open-aired bar at the water's edge. This fun little bar is also a great place to chat with fellow travelers.
Amberly McAteer from The Globe and Mail
sums up her experience of a Belizean sunset beautifully in this quote.
"That first night, sipping the local Belikin beer while sitting on the pier, I take in my first Belizean sunset. Bright blue sea horses inch by under the dock, and a pelican drops from the sky, diving for his dinner. That rock on the sand? It's a hermit crab. It gets up and shuffles down the beach. Dolphins, blue herons, osprey – the beauty is almost comical, something out of a Disney movie." -
Amberly Mcateer, The Globe and Mail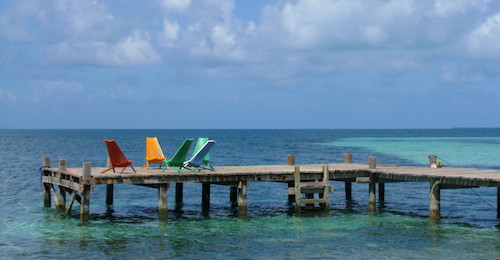 If you go:
The idyllic setting of this tiny island is the perfect place to relax, unplug and explore the Belize Barrier Reef at any time of the year. From November to the end of April we offer guided kayaking, snorkel and Stand Up Paddleboarding on our
Paradise Islands
and
Coral Islands SUP
trips. Both these trips include a stay at Tobacco Caye Paradise.
If you are traveling independently, there is a
water taxi service
to the island from the town of Dangriga. Many travelers like to combine a stay on Tobacco Caye with time in the rainforest, enjoying the refreshing, cooler climate that the jungle canopy provides.
Bocawina Rainforest Resort
in the Mayflower Bocawina National Park is a wonderful option and is just a 30 minute drive from Dangriga.