Posted on Thursday, June 15, 2017
With the opening of the lobster season in Belize on June 15th, we wanted to share a Belizean lobster recipe. The delicious
Lobster Robert
recipe comes from
Chef Rob's Gourmet Cafe
, located at the Parrot Cove Lodge in Hopkins. This is a must visit restaurant if you are staying in Hopkins.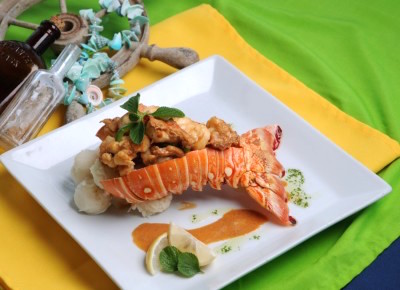 Lobster Robert - Photo credit: Chef Rob's Gourmet Cafe
Ingredients
Lobster Tails: 6 tails, 6-8 ounces each, cut in large chunks
Lobster Crust: 1 pound
Dry White Wine: 1/2 bottle
Local Dark Aged Rum: 3 fluid ounces
Heavy Cream: 4 fluid ounces
Carrots: 1 medium size
Onions: 2 medium size
Celery: 1 stalk
Tomatoes: 7 medium sized
Zucchini: 1 medium size
Sweet Pepper: 1 medium sized
Garlic: 4 cloves
Thyme Leaves: 1 teaspoon
Bay Leaves: 3 whole leaves
Directions
1. Lobster Base Sauce
Sauté the lobster crust in some olive oil. Set aside 1 tomato, 1 zucchini, 1 onion, and 1 sweet pepper for later and the add the remaining vegetables and herbs and continue to simmer for 10 more minutes. Add the white wine and 4 cups water and bring the sauce to boiling point. Let the sauce simmer for about 30 minutes before straining it through a fine sieve. Reduce the liquid till half remains and thicken with a bit of cornstarch if required. Bring sauce to boiling point and season with salt & pepper.
2. Lobster Robert
Cut the remaining onions, peppers and tomatoes into 1/2 inch cubes. Take the lobster tails out of the shell and cook the shells in some boiling water. Cut the lobster into large chunks and season them with some salt & pepper. Sauté them in a little olive oil for about 2 minutes. Add the vegetables and continue to sauté for 3 more minutes.
Flame the seafood with the rum and add the lobster base sauce and heavy cream. Bring the dish to boiling point and let simmer till the lobster is cooked. Place the cooled lobster shell on the plate and fill the shells with the seafood mixture. Serve this dish with some white rice or fresh baked Creole Bread.
If you go:
Our
Jungle and Beach Explorer Hopkins
trip combines a four-night active adventure at Bocawina Rainforest Resort with three nights in the beachside village of Hopkins. This Belize vacation package includes the options of staying at the
Parrot's Cove Lodge
, where Chef Rob's Gourmet Café is located.