Posted on Wednesday, July 26, 2017
Hopkins is a small coastal village located in eastern Belize, with the turquoise Caribbean Sea and white sand beaches on its shore. It's the perfect base to explore the surrounding areas including the Belize Barrier Reef, Mayflower Bocawina National Park and the Cockscomb Basin Wildlife Sanctuary.

Hopkins is home to about 1500 people and is considered to be the cultural centre of the Garifuna population of Belize. It's a great place to stay and immerse yourself in the Garifuna culture, including sampling traditional dishes at the local restaurants.

Here are our top 5 suggestions on the best places to eat in Hopkins:

1. Innies Restaurant in Hopkins, Belize
Innies Restaurant
[3]
is a great choice to enjoy authentic Garifuna food in Hopkins. The restaurant is locally owned and the chef, Marva Martinez, has lots of experience preparing traditional Belizean cuisine. One of the most popular items on the menu is the Garifuna dish of Hudut, a delicious combination of mashed plantains and fish in coconut stew. Innies Restaurant is also a wonderful place to relax, soak up the atmosphere and watch Garifuna drummers and dancers.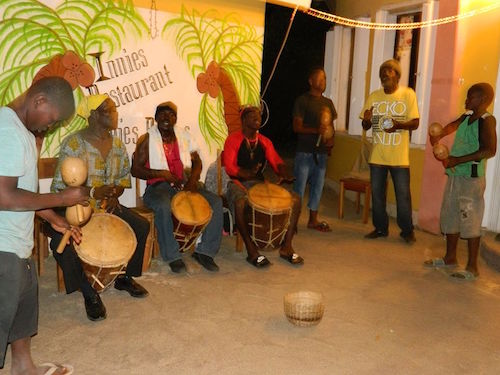 Garifuna drummers at Innies Restaurant in Hopkins
2. Chef Rob's Gourmet Cafe in Hopkins, Belize
Chef Rob's Gourmet Cafe
[4]
is located in the Parrot Cove Lodge in Hopkins. It is regarded as one of the best restaurants in Belize and Chef Rob is considered one of the top chefs in the country. You can expect a menu that changes daily, based on the availability of market fresh products. Lobster, conch, shrimp, ceviche, steak and pork dishes are some menu items you can sample.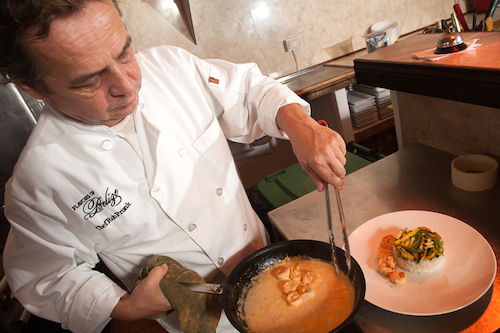 Chef Rob
3. Love on the Rocks in Hopkins, Belize
Love on the Rocks
[5]
is owned by the well known Belizean Chef Rob and is also located in the Parrot Cove Lodge in Hopkins. This is a fun and unique restaurant to experience on your Belize vacation. All the dishes feature locally grown and sourced ingredients which you cook on a hot stone slab right at your table. The restaurant brings back a cooking tradition started by the ancient Maya in Belize.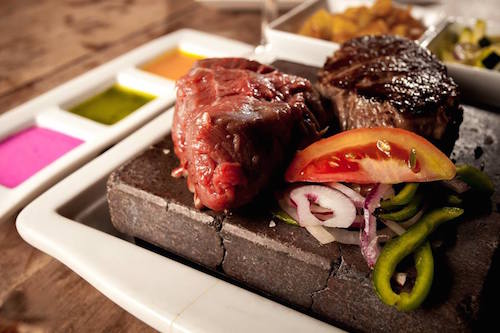 Cooking steak on the hot rock at Love on the Rocks, Hopkins, Belize
4. Tina's Kitchen in Hopkins, Belize
Tina's Kitchen
[6]
is a family run restaurant and is a good place to sample local, delicious and inexpensive Belizean food. This is a perfect spot for breakfast or lunch. Must try items include, french toast, chicken stew and fish, rice and beans. It's authentic, down to earth and a great place to try real Garifuna food.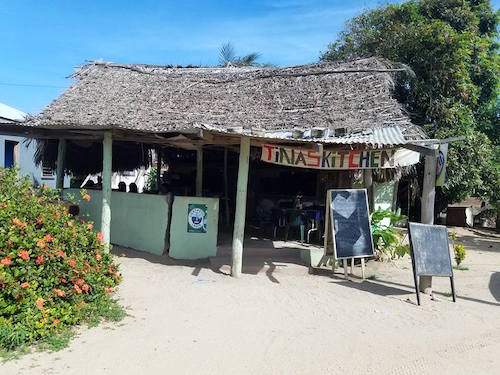 Tina's Kitchen in Hopkins, Belize

5. Caitlin's Bakery in Hopkins, Belize
In 2000,
Caitlin's Bakery
[7]
was started as a mobile venture selling homemade banana bread, various whole grain muffins and loaves of bread within Belize. In 2006, Caitlin's Bakery became a permanent part of Hopkins and Caitlin has been selling the finest baked goods in the area since. This is a must visit when you are in Hopkins and you can sample a range of fresh baked goods including bagels, carrot muffins, pumpkin muffins and brownies. This is also a great place for vegetarians and Caitlin makes awesome soy burgers, mushroom burgers and tropical fruit smoothies.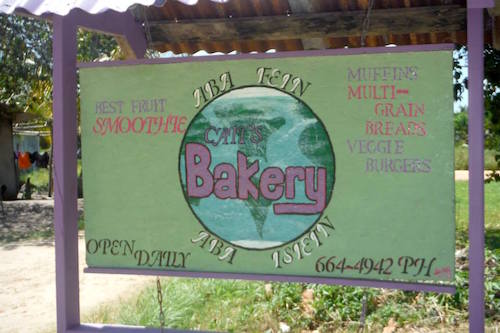 Caitlin's Bakery in Hopkins, Belize

If you go:
If you are planning on visiting Hopkins as part of your Belize vacation, ask one our travel specialists for suggestions on the best places to stay.
We also offer a year-round
Hopkins Jungle and Beach Explorer
[8]
trip. This package combines a four-night active adventure at Bocawina Rainforest Resort with three nights at either the Parrot's Cove Lodge or Beaches & Dreams Resort.
Contact us today at
1.800.667.1630
or email
info@islandexpeditions.com
[9]
for more information.