Posted on Wednesday, February 17, 2016
Glover's Reef
[3]
lies at the heart of the largest coral reef system in the Western Hemisphere and is a critical nursery and feeding ground for sea turtles, sharks, rays, and fish for Belize, and the rest of the Caribbean. The Glover's Reef Atoll also has the greatest range of coral reef types in the Caribbean Sea.
As part of our
Glover's Reef trips
[7]
we paddle over to the research station for the day to show our guests the important work that the WCS conducts. The station provides a platform for scientists to perform cutting edge research at one of the Caribbean's most complex and important coral reef systems.
Projects at the Glover's Reef Research Station include:


Coral Reef Monitoring
Coral reef ecology is a large part of the research being conducted at the Glover's Reef Research Station. Researchers are working to uncover the ecological relationships that exist among the fish, coral and algal communities at the atoll.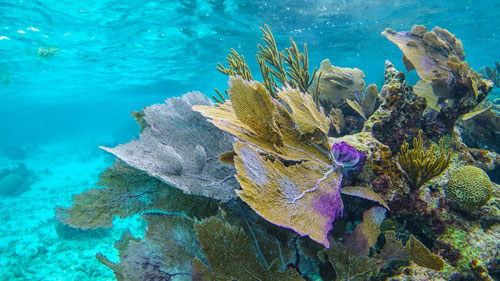 In-Water Sea Turtle Monitoring

The WCS, in collaboration with the
Belize Fisheries Department
[8]
conducted its in-water turtle survey back in the spring. The objectives of the monitoring program include increasing knowledge of sea turtle movement and habitat use, studying growth rates of sea turtles at Glover's Reef and assessing the genetic stock of the foraging sea turtles. During the survey, three adult hawksbill and one green sea turtles were captured and fitted with satellite tags to track their long-range movement.
The hawksbill turtle is critically endangered. However, a healthy population lives at Glover's Atoll thanks to strong regulations and excellent habitat.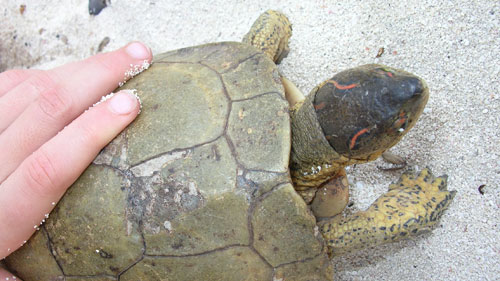 Spawning Aggregation Monitoring
In the 1970s, many thousands of Nassau groupers aggregated at Northeast Point, Glover's Reef Marine Reserve. However in 1999, WCS researcher Dr. Enric Sala and his team estimated only 3,000 groupers were aggregating at the bank. As a result of the low numbers of aggregating Nassau groupers at the spawning site, the Government of Belize passed legislation to fully protect 11 spawning sites, including Northeast Point, and introduced a four month closed season for the Nassau grouper. Since 2005, the WCS have been conducting counts of Nassau groupers at the spawning site.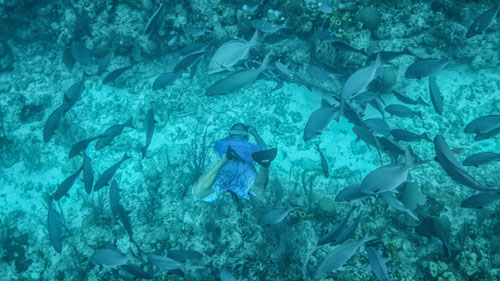 Belize Shark Conservation Research
The purpose of the shark conservation project is to obtain scientific information to improve shark conservation on the Belize Barrier Reef and associated regions. The Glover's Reef atoll shark survey has been conducted for thirteen consecutive years using longline fishing and for four continuous years using unobtrusive baited remote underwater video (BRUV) techniques. From this research the WCS were able to locate critical habitats (e.g. breeding grounds) and monitoring population trends.