Posted on Wednesday, June 14, 2017
June is an important month in Belize for festivals. It also marks the start of the lobster harvesting season which happens each year on June 15th. The harvesting of the Caribbean Spiny Lobster is only allowed from June 15 to February 14.

The season closes from February 15th to June 14th for the mating season. Spiny Lobster is one of the top marine exports for Belize bringing in up to $15BZ million in past years and is a major contributor to the local economy.
How do Belizean Fisherman Catch Lobster?
There are two main ways that lobsters are fished for in Belize. The first method is by free diving with a hook-stick. The lobster is caught by sliding the stick under its belly and pulling the hook up and out. This takes a lot of skill and (diving) experience, as lobsters as surprisingly fast swimmers.
The second method is by using a lobster trap. Inside the hand built traps, bait is placed and they are then located in sandy, shallow areas. Once the lobsters are ready to be collected, one person will free dive to the traps and attach a line. Then another person on the boat will pull the traps up and the lobster out. Fishermen on sailboats, dories and skiffs will use this method.
Lobster shades are also used to harvest lobster. They are similar to lobster traps but they do not contain bait. Lobsters will seek shade during daylight and hide in these traps.
Watch this video to see Belizean fisherman free diving for lobster with a hook-stick:
2017 Lobster Festivals in Belize

With the opening of the Lobster season, comes the celebrations! There are three main lobster festivals in Belize: Placencia, San Pedro and Caye Caulker. Not only is this an amazing time to tantalise your taste buds with amazing lobster delicacies, it's also a wonderful way to discover Belizean culture. The lobster festivals in Belize are filled with music, dancing, fun competitions and kids games.
Placencia Lobster Fest: June 23-25, 2017
The
Placencia Lobster Fest
is known to have the most diverse and tasty selection of lobster. Local DJs and musicians will provide entertainment throughout the weekend. Visitors and locals will stay up late to celebrate and join the dance parties featuring Belizean bands.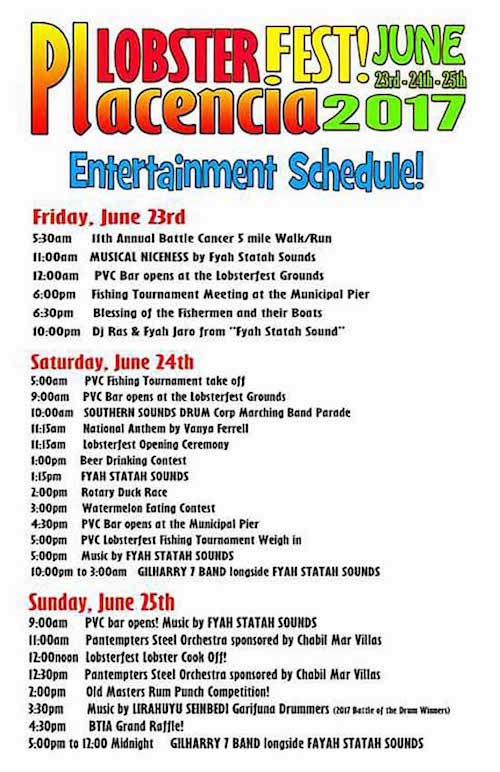 San Pedro Lobster Fest: June 15-24
The
San Pedro Lobster Festival
includes nightly events where local restaurants feature lobster dishes and live music. The week-long festival ends with a block party, featuring an art show, live music, fire dancers, local dance company performances and fantastic food from the local restaurants.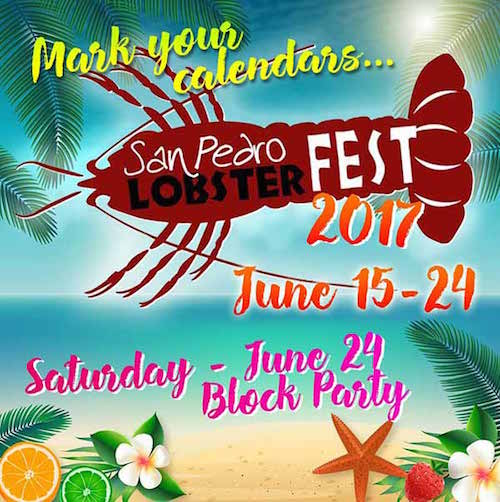 Caye Caulker Lobster Fest: June 30 - July 2
The
Caye Caulker Lobster Festival
starts on Friday with the crowning of Miss Lobster Fest. Highlights of the festival include displays of live lobsters, weighing in of the biggest lobster for the weekend, a dance event on Saturday night and of course all sorts of delicious and mouth watering lobster dishes to try.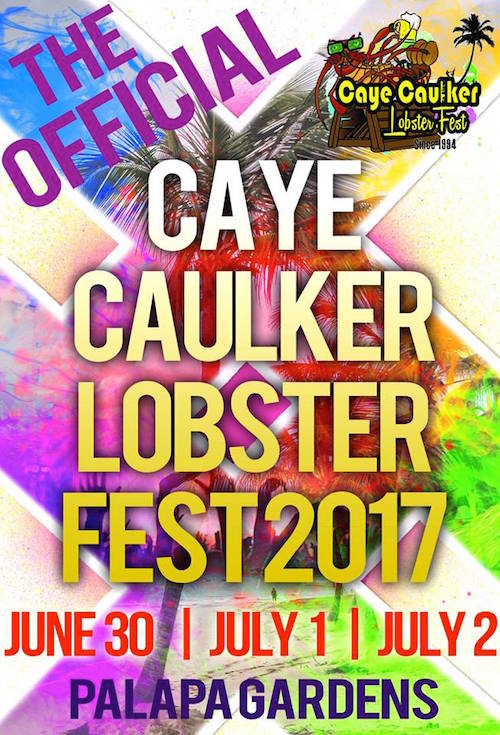 If you go:
Visiting Belize for the Lobster Festivals is a fantastic way to enjoy this seafood delicacy, but also a time to discover the unique culture of Belize through music, arts and food.
If you are planning on visiting Placencia for Lobster Fest, make sure you check out our
Jungle & Beach Explorer-Placencia
trip. This Belize vacation package combines a visit to
Bocawina Rainforest Resort
with some beach time at one of the featured resorts in Placencia, close to the celebrations for Lobster Fest.