Posted on Wednesday, July 5, 2017

What's Norm Been Up To This Summer?

We recently caught up with Norm to learn more about his summer paddling trips in British Columbia. We were super excited to find out more about a new paddling trip that he is offering to Campania Island in the Great Bear Rainforest this July. Taking one of his trips this summer like this one will keep you in shape for the Coral Island SUP trip this winter in Belize. It's also a wonderful opportunity to advance and refine your paddling skills from Norm, who is one of the top SUP instructors in North America.

Campania Island SUP Trip with Norm Hann Expeditions - July 2017

Norm Hann Expeditions is excited to offer this amazing paddling adventure to the white sand beaches of Campania Island. Campania is a rugged, stunning island that thrusts itself above Pacific waters and sits on the western edge of Gitga'at Territory and the Great Bear Rainforest. Mt. Pender, the highest peak on the island provides an incredible backdrop to the pristine, fine, white sand beaches that face westward and sit protected below its weathered ridge lines. Behind the beaches lies a tangled temperate rainforest, home to marine wolves whose prints can be seen daily as they travel from beach to beach looking for food. The west side of Campania Island is one of the most remote sections of the British Columbia coastline.

This is a unique paddling adventure that inspires feelings of seclusion and connectedness, with breathtaking vistas, relaxing beach explorations and hikes with days capped by incredible sunsets. The ocean ecosystem out here is supercharged with all types of marine life including foraging Humpback Whales, large colonies of seabirds and all types of rich intertidal species. It is a stand-up paddlers dream with hundred of islands, inlets and protected shorelines to explore. You will also have the opportunity with good weather to paddle some of the more rugged and exposed shorelines and reefs that face the wide open waters of Hecate Strait.

The waters and lands here are charged with a different energy and provide an opportunity for you to disconnect, relax and reconnect with those things that are important in life. The trip begins in the Gitga'at community of Hartley Bay where we will head west with our support boat towards the ridgelines of Campania Island.

Join Norm Hann and guests for an incredibly immersive paddling experience and one that will stay with you for a long time.
Dates: July 27-31st, 2017
Price: $2199 + GST
Location: Hartley Bay, B.C.
Guides: Norm Hann, Sarah Glenn

Norm Will Be Back in Belize For Winter 2017/2018 for the Coral Islands SUP Trip
If you love to SUP, then it's time to start planning for Belize now. Norm will be joining us on select
Coral Islands SUP Belize
trip departures this winter. The trip is ideal for those paddlers seeking the adventure of a guided and fully catered SUP journey combined with the comforts of small lodges in spectacular locations in the Southwater Caye Marine Reserve. Along with Norm Hann's skilled instruction and coaching on select departures, this adventure is ideal for those who want to learn or improve their SUP skills.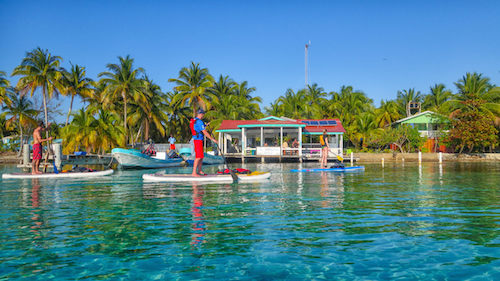 Norm paddling into the lodge at Southwater Caye